FIFA14 Bayern Munchen 14-15 Away & Third Kits by Romeghea69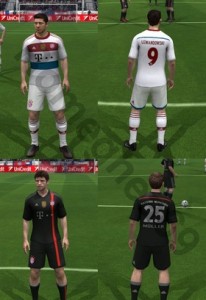 So, I saw that there were no good kits of Bayern Munchen third and away.. so I decided to make them by myself.
How to install: use CM 2014 to insert them in the game. You can use *.rx3 files to insert them or the *.png files, doesn't matter, but the colour and the type of the numbers (from the jersey) you'll have to do by yourself. The type of the number is 20, and the colours are: for the third kit, grey colour for name & number, and for the away kit, burgundy for name & number.
I hope it's not that hard to chose the colour for the name and the number and you will enjoy them !