FIFA 14 UPL v3.0 Patch by pavlo_koz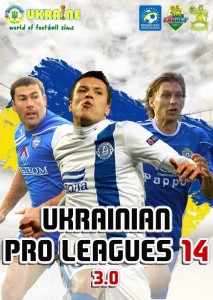 Patch include:
1. All 16 UPL teams.
2. All 16 Favbet League 1 teams(Ukraine first division)
3. All 15 Second League teams
4. Ukraine national team.
5. Real home, away, GK and third kits for all added teams.
6. Minifaces to added players.
7. Real adboards, flags and banners to all teams.
8. Ukraine League, Cup and Supercup are featured in both Career Mode and Tournament Mode.
9. 2 teams from Ukraine in UCL and 4 in EL, like a real.
10. Added new new menu pics and start pics.
11. Latest rosters and accurate skills.
12. Patch compatible with ModdingWay Mod 2.5.1
only ENG and RUS game mode compatible!
Creators FIFAManager.com.ua team:
-Ukr N-, pavlo_koz, Alex G, alex.ua, Wied, Blumer, scorpiousua