FIFA 15 Revolution Mod 15 V1.0 by scouser09
-All Generic Boots Are Replaced By Specific Boots.
-Assign A Specific Kit (GK And Outfield) To Use For A Specific Match.
-Assign Boots From New Library.
-Assign Custom Assets To FUT Team.
-Assign Different Textures To Static Adboards.
-Assign GK Kit To Outfield Kit (Includes Randomization).
-Assign Sleeve Length, Jersey Tuck, Jersey Fit, Sock Height, Undershirts, Undershorts And Winter Accessories To Players.
-Assign Winter Accessories To All Referees.
-Automatic Accessories (Includes Team Winter Gloves).
-Automatic Adboards (Includes Adboard Randomization).
-Automatic Arena Kits.
-Automatic Balls (Including Winter And Snow Balls).
-Automatic Banners (Home/Away, Tournaments, Specific Opponents).
-Automatic Boots (Includes Boot Randomization).
FIFA 14 Revolution Mod 14 V.1.4 by Scouser09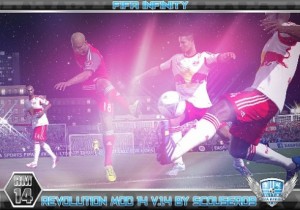 Features v1.4:
– Automatic accessories (new team kit option).
– Automatic boots (new team kit option).
– Automatic faces (new randomization).
– Automatic squad number kits.
– Automatic tournament wipes.
– Automatic training, arena and skill game balls.
– Set wipe logos (trophies or 3D tournament logo).